Services: Pilates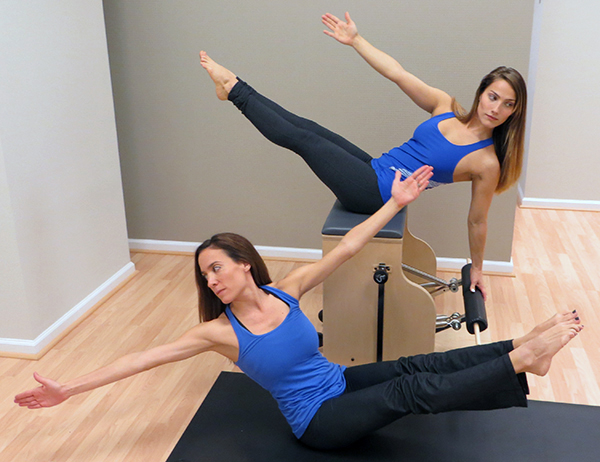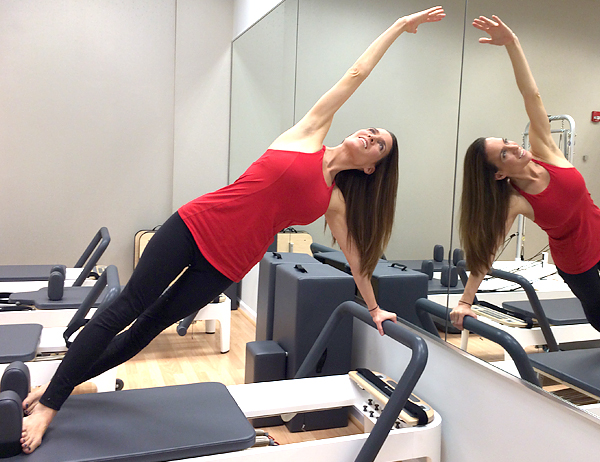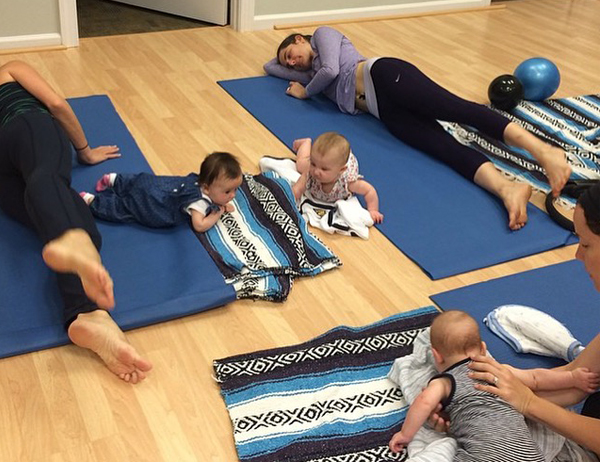 Pilates is a method, which focuses on coordination, mind body connection, strength and flexibility with the assistance of breath to perform controlled fluid movements. This balance within the body allows for us to move more efficiently in our daily lives, minimizing abnormal stress and strain on our bodies, which can lead to common aches and pains and or injuries. No matter what fitness level you are at, our focus at Capital Wellness is to maximize your fitness potential so you are able to enjoy a more active lifestyle and good health.
Class Descriptions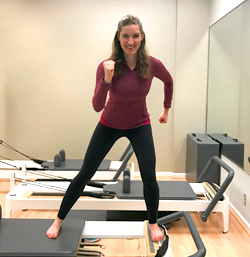 Tandem: Clients use both the Reformer and Tower combination throughout their workout to challenge and stretch their body, muscles and mind.
Circuit: This class challenges all aspects of the body with each participant rotating through a circuit of "Pilates Stations" using a variety of equipment: reformer, tower, chair, spine corrector, ladder barrel and/or mat with props.
Mommy & Me: This fun Pilates mat class allows moms and their babies to work out together and bond.
Mommy and Me Apparatus: Four mommies
working out on Pilates Apparatuses while their children play with toys.
Reformer Class: This is a great class to introduce you to the most popular Pilates apparatus "The Reformer." Discover how the springs challenge your body as your body transforms to a more sculpted you.
Senior Balance: This is a mat class which also uses small props to increase strength and challenge balance.
We have the wonderful opportunity during the spring, summer and fall of having Pilates and Yoga Mat classes outside in the beautiful courtyard, weather permitting.
History of Pilates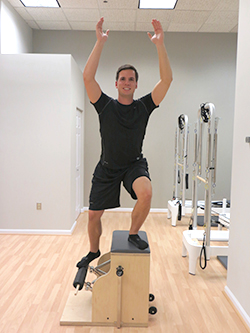 Joseph Pilates, born in the late 1800's in Dusseldorf Germany, developed the Pilates Method known as "Contrology". As a young boy, Joseph suffered from asthma, rickets and rheumatic fever. He was able to cure his frail condition with exercise and bodybuilding, which allowed him later to be an accomplished diver, gymnast and skier. In 1912, Joseph moved to England to teach self-defense to the detective group at Scotland Yard. World War I began soon after and Joseph was interned as an enemy alien with other German nationals. At this time, he trained other internees in his exercise system known as "Contrology". Joseph helped rehabilitate bedridden patients in English hospitals by taking bed springs and attaching them to the wall. These patients were able to maintain their strength and minimize decline in their immune system from this rehabilitation. When the influenza epidemic swept across England in 1918 and killed many people, not one of Joseph's patients died from this influenza out break.
In 1923, Joseph moved to New York City and opened his fitness studio, sharing an address with the New York ballet. Joseph worked with many people including injured dancers, fitness gurus, hockey players, contortionist and the social elite of New York City. Joseph was able to spread his Pilates Method through his teachings and mentorship, enabling Pilates to evolve substantially in the United States. Since then Pilates has further advanced within the medical and fitness communities through scientific evidence based support of biomechanics, anatomy, physiology and through continued research. The advanced nature of Pilates today provides an opportunity for certified Pilates instructors around the world to make a significant positive impact on people's lives whether for rehabilitation or fitness.
Testimonial
"Pilates with Capital Wellness is a big part of what keeps me flexible and strong so I can continue sailing, playing golf and horseback riding"
– I. Smith-Tornberg
Benefits of Pilates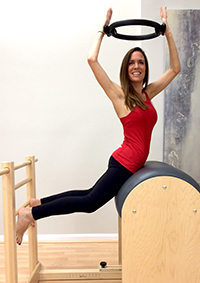 Moving efficiently in our daily lives to prevent strain
Increasing Strength and Flexibility
Learning to use breath to facilitate movement, improve lung capacity/function and circulation
Improving Balance
Building Core Strength
Improving Posture
Increasing Stability and Proper Alignment of Spine and Extremities
Improving Bone Density and joint health
Rehabilitating from Injury or Pathology E.g. Scoliosis, HNP, lower back pain, spinal fusion, Total joint Replacement, Parkinson's, Rotator Cuff Impingement and Repair , etc
Improving coordination through mind body connection
Price List
We offer private, duet and trio Pilates sessions. We also offer Pilates mat and apparatus classes.
Each Pilates session (private, duet, trio) is 55 minutes and classes are 30-50 minutes with a PMA® certified Pilates teacher and Polestar Pilates trained instructor to ensure proper exercises and movement patterns, to achieve optimal outcomes for clients/patients.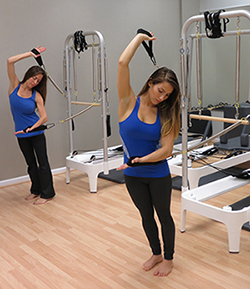 Mat Classes
Pilates/Yoga 50-60 minute Mat classes: $25/drop-in, 5 pack: $115, 10 pack: $190 ($19/class)
Apparatus Class
Pilates 50 minute Apparatus Classes: $40/class, 5 pack: $190 ($38/class), 10 pack: $350 ($35/class)
Mommy and Me Apparatus: $30/drop-in, 5 pack: $140, 10 pack: $250
Senior Balance: $35/drop-in, 5 pack: $160, 10 pack: $300
Private, Duet and Trio Pilates/Yoga Sessions
Private 55 minute Pilates/Yoga: $90/session, 10 pack: $860 ($86/session)
Duet 55 minute : $60/individual, 10 pack: $550/individual ($55/session)
Trio 55 minute: $50/individual, 10 pack: $450 ($45/session)
Private 30 minute Pilates: $50/session, 10 pack: $450 ($45/session)
Duet 30 minute Pilates: $30/individual, 10 pack: $250 ($25/session)
Trio 30 minute Pilates: $25/individual, 10 pack: $220 ($22/session)